Royal Military College Duntroon Australia
Class Of 1964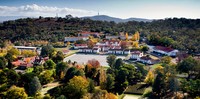 Nick Jans New Book
Leadership Secrets of the Australian Army
Nick Jans has launched a new book titled Leadership Secrets of the Australian Army. The book identifies the distinctive egalitarian leadership principles behind the effectiveness of the Australian defence forces and shows how they can be applied in any organisation at any level.
Nick sees Australia's military consistently punching above its weight, and its approach to leadership is the key to its success. It is now an adaptable and egalitarian leadership culture that ticks all the boxes for best practice.
The military assumes no-one is born a natural leader, and that good training makes good leaders. Based on his military career and involvement in defence training programs, and on research, Nick has identified the core principles of this consistently successful approach to leadership. These core principles of leadership which generate loyalty and commitment at an operational level, are just as successful in everyday team management as they are in the field.
Leadership Secrets of the Australian Army includes real stories from the field and from workplaces, from everyday employees and from well-known leaders. It shows how you too can become a leader your team can believe in, and-equally importantly-how you can help them believe in themselves.
It is a good read and a book that would have been invaluable when we were cadets and after both in our military and later civilian careers.
Royalties from sales of Leadership Secrets of the Australian Army are going to Soldier On, a support services provider for military and emergency services personnel.
The book is now available from booksellers. And if you want a taste, check out its website: http://leadershipsecrets.com.au or listen to an ABC interview with Nick on the following link:
http://www.abc.net.au/radionational/bestpractice/military-leadership/9949958
Congratulations Nick!
Brian Willis
20 July 2018