Royal Military College Duntroon Australia
Class Of 1964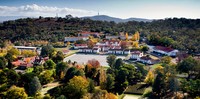 Reunion 2014 Remembrance
REMEMBRANCE GATHERING
11.30 SUNDAY 7 DECEMBER 2014
PREPARED AND LED BY JOHN ONGLEY
FELLOW CLASSMATES AND WIVES
WE HAVE GATHERED HERE THIS MORNING TO REMEMBER THOSE CLASSMATES WHO ARE NO LONGER WITH US; WHO HAVE LEFT US FAR TOO EARLY.
REGRETTABLY, ONE WAS KILLED ON ACTIVE SERVICE; THAT NUMBER COULD HAVE BEEN HIGHER AS MANY OF OUR CLASS WERE COMMITTED TO SERVING IN SOUTH VIETNAM. THANKFULLY, ALL BUT GRANT ROSS RETURNED HOME SAFELY.
ALL OF THESE CLASSMATES DEPARTED THIS LIFE WITHOUT THE OPPORTUNITY TO SAY GOODBYE, SO WE ARE NOW TAKING THIS OPPORTUNITY TO SAY GOODBYE TO THEM, AND WE HOLD THEM FONDLY IN OUR MEMORIES.
THEY ALL CAME TO DUNTROON TO SERVE THEIR COUNTRY IN A NOBLE AND HONOURABLE PROFESSION, AND WE THANK THEM FOR THEIR SERVICE. IN LIKE MANNER, MAY WE CONTINUE TO LIVE OUR LIVES IN THE SERVICE OF OUR COUNTRY, AND ALWAYS BE AN EXAMPLE TO THE COMMUNITIES AROUND US; IN THEIR MEMORY, MAY WE CONTINUE TO LIVE A LIFE OF GENEROSITY, FAIRNESS AND COMPASSION.
TODAY WE REMEMBER THE FOLLOWING:
IAN BRYANT
PAUL MENCH
JOHN PHILLIPS
ALAN PRICHARD
GRANT ROSS
CON RYAN
TONY STABBACK
JAMES STRONG
JOHN WEISSEL
LAYING OF WREATH - ROD USBACK
1 MINUTE SILENCE
THE ODE
THEY SHALL GROW NOT OLD, AS WE THAT ARE LEFT GROW OLD;
AGE SHALL NOT WEARY THEM, NOR THE YEARS CONDEMN.
AT THE GOING DOWN OF THE SUN AND IN THE MORNING
WE WILL REMEMBER THEM
LEST WE FORGET
We will conclude this remembrance ceremony by inviting you to join with me in reciting The Lord's Prayer, after which I will read to you a condensed version of an old Irish Blessing.
Our Father who art in Heaven
Hallowed be thy name
Thy kingdom come
Thy will be done on earth as it is heaven,
Give us this day our daily bread
And forgive us our trespasses
As we forgive those who trespass against us
And lead us not into temptation
But deliver us from evil
For thine is the kingdom, the power and the glory
Now and Forever. Amen
*******
May the road rise to meet you
May the wind be always at your back
May the sun shine warm upon your face
May the rains fall soft upon your fields
Until we meet again
*******